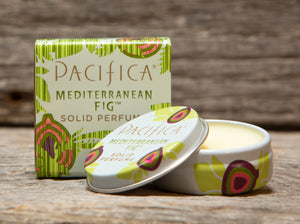 Pacifica Gifts
Pacifica Mediterranean Fig Solid Perfume by Pacifica ONLY 3 REMAIN -VERY RARE BEST SELLER
Regular price
$59.95
$0.00
There are now 5 remaining. Once they are gone, that will be all for this SPECTACULAR beloved scent! Discover for yourself why these sold out so quickly after we purchased Pacifica's entire remaining stock.

This earthly, rich blend combines the warm, sweet fleshy fig, green notes of the fig leaves, slight floral from the cyclamen and velvety creamy Sandalwood.
Use individually or layer with other solid perfumes to create your own signature custom fragrance. These easy opening little beauties are about the size of a 50 cent piece and 3/4ths of an inch deep and seemingly last forever. They fit perfectly in pockets and purses. 100% vegan & cruelty-free. All natural blend of vegetable wax containing Pacifica's own fragrance blends with natural and essential oils. Micro-batched solid perfumes in a soy and coconut base. Formulated without parabens, phthalates, gluten, and other ingredients you don't want on your skin.

---
More from this collection